Image credits: pexels
Only the fortunate  ones get good friends, with whom they have great memories, can share secrets, go on an adventure, and share a unique relationship.
Birthdays are always a special day to strengthen your bond and your friendship. But, finding the right words to tell your buddy how much he means to you can be a little tricky at times.
These birthday wishes have been listed to make your task easier. You can always add some personal touch to make them exceptional.
Dos
It's your friend, so go all out to express how you feel.
Keep it simple and relevant.
Express feelings from the heart.
Always mention your friend's name.
Add something about the good memories you share.
Keep the message joyful, short, and sweet!
Don'ts
If your friend is sensitive about something, don't mention it in your message.
Don't opt for puns and jokes if your buddy cannot handle them.
Never cross your limits. Keep in mind your relation, your friend's personality before choosing the words.
Best happy birthday wishes for a pal
On your special day, I want to tell you how much I appreciate our friendship! Thanks for being my best buddy. Wish you a Happy Birthday!
May your birthday be filled with exciting moments, joy, and whatever you wish for! Sending birthday cheers!
Happy birthday, (name). On your special day may you be blessed with everything you wished for! Keep that dazzling smile always!
A lifetime of joy, success, and good fortune is what I wish for you today and always my friend. Have a rocking birthday!
Dear (name), may your day be as bright as the sun! Happy Birthday!
Congratulations! It's your birthday, buddy…Time to relax and have a good time. You always deserve the best. Happy Birthday!
From the first day in school till now, you always kept me inspired and been there when I needed you. Ours is a special relationship and you are amazing! Happy Birthday.
You are a wonderful guy and I'm sure a lot of people have told you this but now it comes from me ….You rock! Happy Birthday!
There's never a dull moment with you. Your positive, cheerful personality is admirable (name). Wishing you an utterly fun birthday, packed with goodness and smiles! Happy Birthday!
I am lucky that an awesome guy like you is my friend! Sending special birthday wishes your way and hoping you have the most wonderful day today!
May all your dreams come true dear (name). Your birthday is always special to me because you are a wonderful buddy with a golden heart! Happy Birthday.
Years will come and years will go but you will forever remain my best friend! Happy Birthday to the smartest, coolest, guy I know!
Ours is a true friendship that'll last a lifetime and I treasure it every day. Warmest birthday wishes for you my friend.
Blow your worries away just like your birthday candles and enjoy this special day! Happy Birthday!
You have shown me how to enjoy life and not worry too much; you have always dared to be different! Sending you the warmest Happy Birthday wishes!
You made school days and life fun! Wish everyone has a friend like you. Thank you for being there for me. Happy Birthday, pal.
It's a blessing to have you as a friend and I have never doubted that. You are the best! Stay that way always and don't count the years. Happy Birthday!
Age is just a number…Don't let it steal your vigor. It's always great fun to be around you. Have a blast on your birthday!
Friends like you give life a new meaning. Growing up with you has been exciting and fun-filled. You have inspired me to see the world differently and on your birthday I hope you achieve all you dream of!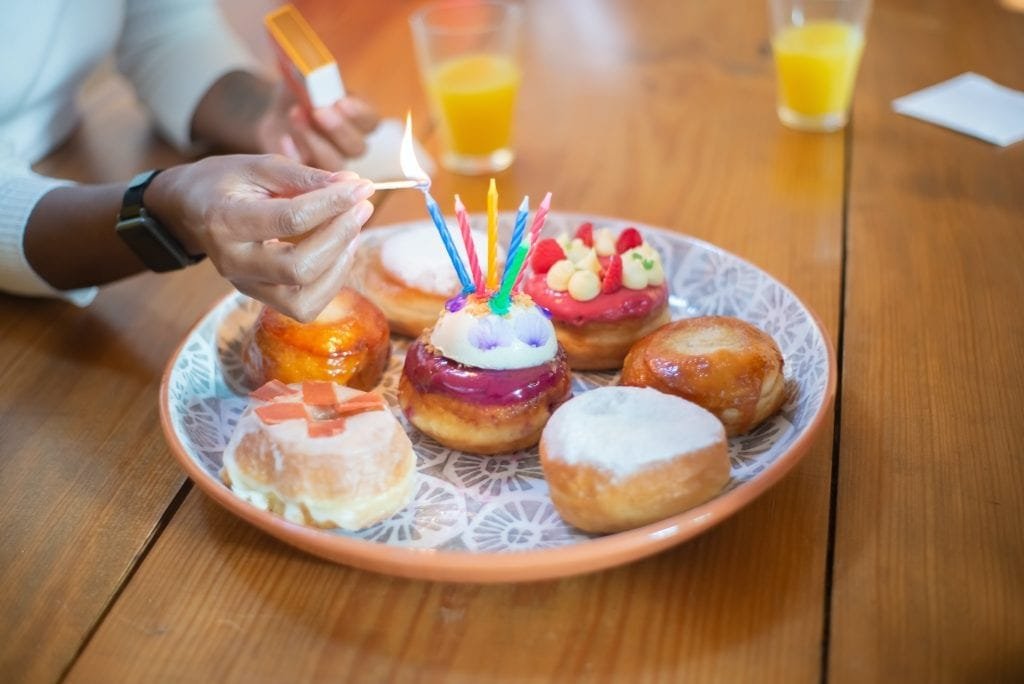 Image credits: pexels
Funny birthday messages for a friend 
1.  You get extra awesome every year friend! Share your secret on your birthday! Happy Birthday buddy!
2.  I practiced singing the Birthday song for you my friend but then my voice got hoarse. Got no choice but to send you tons of good wishes on your birthday here!
3.  On your birthday, don't worry about the age because that's never a big deal! I'm still young and so are you! Enjoy your birthday to the fullest!
4.  Hey bestie, keep your eyes on the cake, not the candles, and enjoy your day! Happy Birthday!
5.  Birthdays come every year for a reason, go all out to honor yours this year. Relax, eat cake, enjoy, and party with friends…Happy Birthday!
6.  Everyone should have a friend who makes them smile, don't worry, you have me! Happy Birthday buddy!
7.  Sometimes I think you've been here forever, and that's the best part! Wish you the coolest birthday ever, man!
8.  Don't count the years, it's 'experience' dear friend! Hope you have hundreds of 'Experience' ahead! Happy Birthday!
9.  On your Birthday, it's time to reflect on the fact that you've been here from the very beginning! I mean, beginning of time, as I know! Happy Birthday!
10.        Dear friend, today you have achieved two things! Another year, and one more candle on your cake! Happy Birthday buddy!
11.        You are the only one who laughs at my silly jokes…I believe that makes us both young at heart! Stay young and celebrate your birthday in style!
12.        Thank you for being my friend, having silly conversations with me, forgiving me for not giving you a birthday present…I guess you like being weird too! Happy Birthday, bestie!
13.        Happy Birthday, (name)! You are as old as you are valued by your friends!
14.        Birthdays come with a reason and one of them is…your friends can give you birthday bumps! Happy Birthday, pal!
 Birthday wishes for a male office friend 
1.  Dear (name), It's been a pleasure knowing you and working with you. I cherish our friendship and looking forward to keeping it that way forever. Happy Birthday!
2.  Happy birthday to the great guy who office fun and work enjoyable! You are not just a colleague but a forever friend. Happy Birthday!
3.  May your birthday be filled with glorious celebrations, happy moments, and bring you great prosperity. Dear friend, you deserve it!
4.  Wishing you a day full of fun, good friend! It's a pleasure to have you in the office as makes the ambiance cheerful always! Happy Birthday!
5.  I admire how you maintain a positive, cheerful outlook always, keeping our spirits up at all times! May your Birthday be wonderful and fun-filled!
6.  Hope your birthday is fabulous, and happiness is your best pal! Have a great birthday.
7.  You have always been a great friend in the office and otherwise, Sending you the warmest birthday greetings.
8.  Happy Birthday to the best colleague, and an amazing person who knows how to make everyone feel good. Cheers on your birthday, enjoy!
Image credits: Unsplash
Birthday messages for a childhood male friend
  1.    When I recall the joyous moments from when we were younger, I remember the good times we spent together and want to relive those invaluable moments again. Wish you the happiest birthday!
 2.    True friendship is the best gift of life and I am lucky to have you as a friend. On your special day, eat cakes and make more good memories.
  3.    Time can never come between true friends. The wonderful bond that we share is extremely precious to me. Wish you all the joys in the world on your birthday!
  4.    You are the smartest, funniest, cleverest guy I know and it's wonderful that you are my best buddy! Have a terrific birthday!
 5.    No one can make rainy days feel sunny like you. You are a rainbow in my life pal. Wish you all the colors of joy and success in life. Happy Birthday!
Birthday wishes from a girl to a boy in school
1.  You are the most balanced, reliable, helpful, guy in school and I am thankful to have you as a friend. Wear your smile always. Happy Birthday.
2.  My dear friend, your charming nature, good sense of humor, and dedication to everything make you the best guy around. It's a pleasure to have you in class. Have a blessed birthday!
3.  Not everyone has the opportunity to find a friend like you, but I did and I'm so thrilled! Enjoy your birthday and do what makes you happy.
4.  Friends like you are rare to find. It's a true gift and I wish you accomplish all your goals and dreams in life. Happy Birthday!
5.  It's a privilege to have a friend like you. On your birthday, party like crazy! Sending cheers and good wishes. 6.  Wishing you mountains of joy and oceans of success on your birthday! You deserve it! Have a wonderful birthday.