A wedding is a momentous occasion for everybody. Even more special are the weddings where the happy couple happens to be family. It is often said that "family is the one and only constant in life," so they must be cherished.
Cousins are often some of our closest compadres. They play a vital role in making our childhood fun and keeping us safe at times. Granted, they can sometimes be a bit annoying, but their loyalty is never in doubt.
We all remember our cousins fondly; when they lent a helping hand, when they shared our sorrows, when they spent hours hanging out with us. Naturally, one of our cousins stood out by being even more caring and generous, making he/her our favorite cousin. Now it's our time to show our appreciation by standing by their side on their special day: their wedding day.
The example wedding wishes for your favorite cousin below have been specially chosen to invoke a sense of gratitude and admiration in a genuine fashion. These examples will be excellent in helping you find your own perfect wedding wish for your favorite cousin.
Tips for your wedding wish
Make it personal. A wish would have a greater impact on your cousin if it was written from the heart. Your wedding wish should use memories to show the uniqueness of your relationship with your cousin.
Make it fun. A wedding is an enjoyable and special occasion. Don't forget that your ideal wish should have the same vibes, capturing the significance of the day while also making your cousin look back fondly on your time together.
Talk about your relationship. Talk about how your cousin was such a great friend and stood with you in trying times. Relate these memories with the wedding by blessing their marriage to possess even greater strength.
Things to avoid in your wedding wish
Don't stop being yourself. There are countless examples provided in this article that aim to guide you in crafting the perfect wedding wish for your cousin. But try to adapt our writings to make your wishes more genuine and sincere. The wishes need your touch to be perfect.
The wish shouldn't purely highlight the past. A wedding is a new chapter of life. Toast to this chapter and wish him luck and happiness. Marital life is unpredictable but it will seem less intimidating with your good blessings.
Template for a wedding wish for your favorite cousin
Dear [Cousin's name],
I have known you since my childhood, and I am pleased to say that it has been a pleasure spending time with you. With you, I share countless happy memories that made my life so very enjoyable.
You have always been there for me, as I have been there for you. Now you stand before me, ready to walk the path of married life. I know you'll do great. May you get everything you ever want in your marriage. May it add a whole new breadth of joy and meaning to your life.
Lots of love,
[Your name]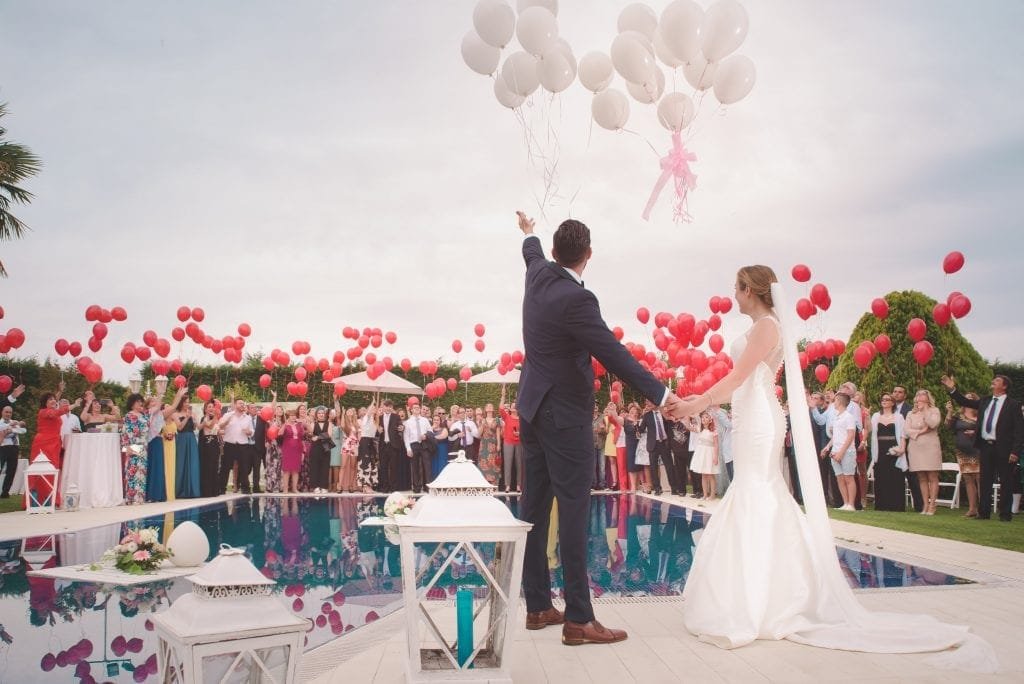 Touching wedding wishes for your favorite cousin
Marriage is the beginning of a beautiful journey – one that will be shared with another wonderful individual. During this journey, I hope that you find love, joy and peace, my dear cousin!
I am so glad that I got to witness the marriage of the coolest person in my life – you. I wish you a happy married life, cousin.
I earnestly hope that you find only love and respect for your other half. May your marriage be long lived and your children as beautiful as you.
While I could not attend your marriage, I wish all the best for the best cousin I ever had, even from miles away.
You two have been through so many hardships before reaching this wonderful day. I heartily wish you the best and hope you will have a happy married life.
Congratulations on this special day! May your love and marriage never end!
I am happy that I was present to watch the union between my beloved cousin and the love of their life. May God bless this marriage.
I bring happy tidings as you two tie the knot today. May your marriage be filled with joy and peace.
Cry together. Laugh together. Love together. I hope that you two always remain together despite anything life throws at you!
I have always admired you and wondered what kind of person will one day stand beside you. But as expected of you, you truly found a gem for yourself. May many happy memories await you in your marriage, my dear cousin.
You have brought joy and wonder into my life with your presence. I hope you receive the same in your marriage!
You have been my best friend for as long as I can remember. So, I couldn't be happier that I get to see the day when you are tying the knot with your other half. Wishing you nothing but love and happiness from your marriage.
Thrilled to be here to witness the union of my favorite cousin. Wishing you a lifetime of happiness!
Marriage is a path full of thorns but can also have its beauty, just like a rose. I wish that you two find the courage in you to brave through every obstacle and keep loving each other till the very end!
A house may be built with hands but a home can only be built with love and happiness. May you build a beautiful home with your partner!
I wish you a happy married life cause you deserve only the best, my beloved cousin!
May God bless this beautiful union and grant you two with endless joy and love!
To think that I will one day see a real life Romeo and Juliet have a good ending. I am so glad that you two managed to get together after everything that you faced. I wish you two endless happiness and peace during your marriage!
Watching you two makes me believe that there truly are fated partners for everyone. I hope you find only bliss during your marriage, cousin.
I earnestly pray that this marriage gives you a million reasons to smile and laugh. Congratulations, my dear cousin!
Congratulations on this joyous occasion. I hope that you never lose the love and respect that you have found for each other!
I wish you all the best as you start together upon the beautiful journey of marriage. May you only find joy and peace with each other!
It is finally the day when I get to see you become one with the love of your life. I am truly glad I got to witness this beautiful union and wish you a happy married life.
I have never seen a couple who are so well suited for each other. I only wish that happiness and peace will grace your marriage!
Glad I could be part of the celebrations today. I am so happy that you found such a fitting partner for yourself, my dear cousin!
I hope that life brings more happiness and prosperity than you could have imagined as you tie the knot today! 
Funny wedding wishes for your favorite cousin 
The food was excellent. Thanks for inviting me. Oh right, congratulations on your wedding! 
I cannot believe that I got to see the day you willingly let yourself get imprisoned. Congrats on finding such a beautiful prison named marriage, cousin.
May the joy on your face never diminish as your marital life progresses and issues start popping up.
I am crying tears of joy as I witness the beautiful union of two wonderful individuals. Don't forget about your cousin after your marriage or I'll tell your spouse about your childhood mischief!
I am truly sorry that I couldn't be there on your special day. But I will be sending over lots of love (and a present that might have your favorite wine). Congratulations once again!
 I have always looked up to you, cousin. I hope that your children aren't as tall! Congratulations.
Today, I stand beside a loving couple, who will soon tie the knot and promise to spend a lifetime together. I wish you two a marriage full of peace and joy (and give me many nieces and nephews to play with).
Dear cousin, I am glad that you found someone as crazy and spirited as you. I wish you two a lifetime of wonders and craziness as you both travel on the journey of life.
I am glad that you found someone who understands and respects who you are. I bring good wishes (and two bottles of wine) on this wonderful occasion!
We hope that you found your inspiration among our suggestions. If you liked our articles, do check out other articles on our website for crafting the perfect wish for other special occasions!