Marriage is a union of souls. It is a special occasion in anyone's life that calls for some special and heart-warming wishes too. Giving wedding cards with personalized wishes written on them is a great way to wish the newly married couples. However, what's even better than readymade greeting cards are handmade cards or gifts with notes attached to them. In today's world where everything is coming on a digital platform, you can also create a digital card with wedding wishes and messages.
Finding a perfect wedding card and then writing a heart-filled wish on it is a task. However, we have got you covered with a part of it. We have got a list of some of the best wedding wishes that you can write on the wedding cards or send as messages to the newly married couples. You can make someone's special occasion even more special with the help of these lovely and well-composed wedding wishes.
Do's
Some of the things to keep in mind while writing wedding wishes for a newly married couple are given below:
Always keep the wedding wishes warm.
Mention how happy you are on hearing about the wedding of the couple.
You can write about the hardships of married life, but only in a positive way.
Only write what you really feel.
Keep your wedding wishes short, crisp, and filled with love.
Make sure that your wishes make the couple nourish their love.
Don'ts
Some aspects to avoid while picking up the best wedding wishes for a newly married couple are given below:
Do not add any negative comments in the wedding wishes.
Do not write that the couple has taken the wrong decision by getting married.
Avoid sending long paragraphs as wedding wishes as people generally avoid reading long paragraphs.
List of notes and wishes
Given below is a list of some amazing wedding wishes for newly married couples to congratulate them on their big day.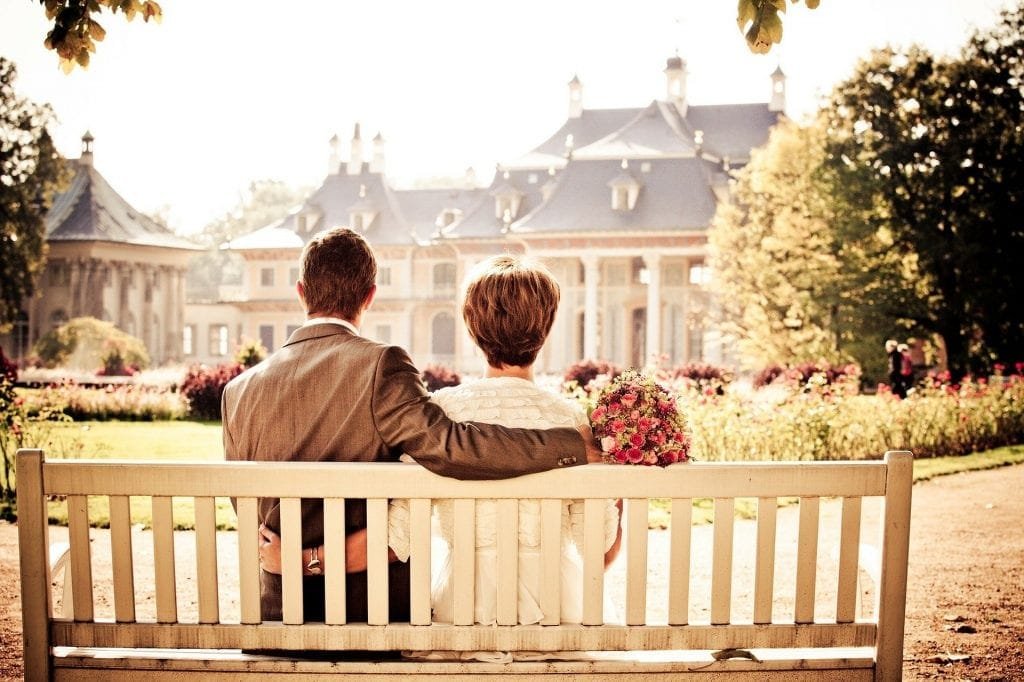 Congratulations to the most beautiful couple on their wedding. I wish you a prosperous married life that lasts for an eternity.
May your marriage have all the elements of friendship mingled in love. Congratulations, my dear friends! I wish you two stay together forever and your love keeps growing with each passing day.
Congratulations on making it to this day, I am sure you are going to make it through this life together too. I hope you have a life filled with love, happiness, and memories. Best wishes from your best friend!
Best wishes to the couple who made it through thick and thin together. May you two continue to pull each other out of troubles and keep pouring love into each other's life. Wishing you a life filled with love!
Today, you two have become a family. I hope this small family keeps growing to become better and bigger, filled with love, passion, and affection!
May God always blesses you with happiness and both of you remain faithful to each other as you have been to God. Congratulations on your wedding!
Congratulations on getting married to the love of your life. I wish the two of you keep pushing each other to cross the limits and reach new heights of success together. Happy married life!
May your love always grow as time passes and you continue to love each other more dearly than ever. Wishing you both a happy married life!
I hope you both continue to love, cherish and support each other through every problem that life throws at you. May you get out it together and stronger than ever. Love each other dearly and cherish every moment of your new life.
Congratulations on creating a small happy world of your own. May this world of yours be filled with love, care, and happiness at all times!
Have a happy married life, my dear friends! Wishing you both stay together through thick and thin and keep supporting each other forever.
May this union bring out the best in you. I wish you care for each other more than ever before and pour immense amounts of love on each other.
As you embark on a new journey together, I wish you immense happiness and loads of love. I hope this beautiful journey of life becomes even more beautiful as you two are together in it. Happy married life!
Happy married life! Hold your hands tight as you move ahead with your life with each other.
I hope you have the best years of life together and continue to live with love. May your future be as bright as your wedding day. Have a happy married life!
I am so happy to see you two get married. Over the years, I have only seen your love grow and I wish this continues to happen in the coming years too. Congratulations on your union!
Best wishes on your wedding. I hope you both get through all the problems of life together and enjoy the new aspects of this whole new world that you have entered together.
May this day be the beginning of a life filled with amazing adventures and love experiences. You have made the right choice by tying the knot. Anyone who looks at you can only see love in your eyes. I hope this love keeps growing and both of you stay together forever.
Looking at the two of you only makes me realize that there is true love in this world. I hope this bond lasts for a lifetime and beyond. Happy married life!
I wish your love stands through every test of life and you celebrate each win by raising a toast to your love. Have a happy married life, folks!
A wedding is one of the few meaningful events in one's life. I hope you cherish the memories you made on this day forever and continue to look at each other the same way as you did on this day forever.
Support and cherish each other for all your life, after all, now you are husband and wife! Happy married life, lovelies!
I wish you lots of love, luck, and trust. I hope you get through the difficult days with love and trust and live a great life with each other.
This new journey will be full of ups and downs, but I hope you get through them with love and laughter. Have a great life ahead!
Happy married life to our most favorite couple! We are delighted to be a part of your special day. Wishing you a life that brings tons of happiness and love!
May your hearts be near in good and bad times and you hold on to each other with love and faith. Have a happy married life!
As you start a new journey with the love of your life, I want to wish you a life filled with love and joy.
May you feel joy in spending every moment with your partner. May you have a life full of never-ending love. May you stay together till eternity. Congratulations on your union, my friend!
I hope you never stop holding each other's hands even when you are 50 years old. I hope your dream of growing old together comes true. Start your new journey with love. Congratulations!
I pray your married life is filled with happiness, joy, faith, and love. May this holy bond of marriage bring immense happiness in your lives as individuals and a couple too. Have the happiest married life, dear!
Your love has stood through the tests of life and you have shown the world that true love wins, no matter what. I hope this undying love continues forever. Have a great day and life ahead.
You are the sweetest couple I have ever seen. I pray for your life to be filled with moments of joy and love. Congratulations!
May you never lose the spark in your life and every coming day is as wonderful as your wedding day. Happy married life, dear!
May God bless you two with a life filled with lots of love and immense happiness. It gives me pleasure to be a part of your big day. Congratulations!
Out of all the big events you have celebrated together, this is the biggest and I hope the joy you got today becomes a part of your everyday life. Congratulations on getting married to the love of your lives!
May you two remain as happy throughout your lives as you were on your wedding day. May your eyes sparkle in the same way every single day. May you get to live a life where all your dreams come true. Congratulations to my most favorite couple and I wish you two have a great life ahead.